I know it's technically: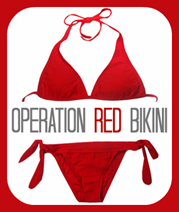 BUT this baby came in the mail last week....
Both a size medium! glad my booty fits into the "hot shorts"
No pics of me sporting this string thing just yet... only 8 days until KaraG and I are hugging it out at our parent's lake house and taking before pictures by the snowed in pool. Mark your calendars because trust me, taking a bikini pic, in the middle of winter, with our 10 family members as onlookers will be an event itself!
I did find some hawt nail polish to match said bikini because who doesn't want to matchy match their nails and hot shorts?!?
Planning to stay on track with #operationredbikini and hit my goal weight of 125 lbs...only 18 lbs to go and I should hit this by May 15th!!!
Workouts and meals for the week
:
Monday: Rest
Tuesday: Run 40 minutes, weight lift 20 minutes
Wednesday: Elliptical 48 minutes, weight lift 10 minutes
Thursday: Zumba-1 hour
Friday: Run 40 minutes, plank during commercials
Saturday: Boot Camp--I'm trying out a new class at the rec center that has drop in classes. This is 1 1/2 hours so we'll see how much my polar says I burn!
Sunday: Run 3 miles
As I workout I'll be imagining myself in my blue 'kini here
Crappiest hotel ever in Yosemite but the view from the pool...ahhhhh
 Meals:
Breakfast: Green tea with honey and oatmeal; english muffin with pb; scrambled eggs & toast
Lunch: #bigasssalad; half turkey sandwich with carrots; tomato soup with cheese, sour cream and tortilla chips
Dinner: Spaghetti pizza and salad, taco salad; baked chicken fingers; venison steak with broccoli
Snacks: Chobani yogurt, almonds, clementines, string cheese, Think Thin bars (I heart the chocolate caramel!!), apples with pb
Let's do this and hopefully I'll look this cute (and not as chubby) in my bikini come May!!