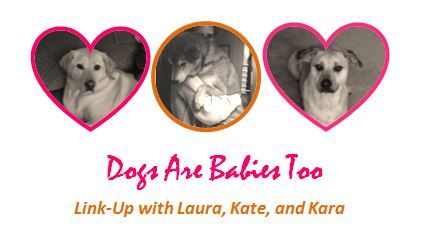 Hey everyone and welcome to my linkup with
Kate
and
Laura
! We are so excited to hear about everyone furry little babies, and the ridiculous things you do for them!
So my little Ted (aka Teddy Bear, Teddy Valentino, Little Mister, Puppy Face McGee, etc.) is an adopted (story below) lab mix and he is a huge snuggler (if you haven't noticed from
instagram
). We have only had him since September, but he is now a huge part of our lives and yes, we treat him like our child. I am such an embarrassing dog lady - I frequently speak to Phil through him: "Oh hi Ted, have you eaten yet?!" actually means "Phil, did you feel the dog?"
He loves to
sit on people
snuggle. He isn't allowed on the couch, so of course we lay on the ground to make him more comfortable. Even if we can't see the TV, we wouldn't dare move and disturb the prince.
All my Saturday mornings are spent at the dog park, no matter how cold it is outside or hungover I am, so he can run his little heart out and chase anything with a louder-than-normal engine. If it's too cold, he wears his stylin sweater to make sure he is comfy and warm.
In the mornings, I take him out before I leave for work and he gets stuck in the bedroom with a sleeping Phil. Just yesterday, I was making him stay in the room while I left, saying "Good boy Ted, you're so cute, I love you so much, be good today, OK bye buddy..." and I'm about to close the door when I hear Phil say "I love you too Kara!"

Oops....forgot to tell my husband goodbye, was too focused on the dog.

Ted's Story

Up to about 6 months ago, I never considered myself a "dog person"....growing up, our family did have a sweet chocolate lab and I loved her so much - however she was a family dog and everyone shared the responsibilities that go along with having a dog. Plus, she was around for 13 years so she became a part of the family. When we had to put her down because of a hip injury followed by cancer, we were all heartbroken. But we never did get another dog. I think we all accepted that we were getting busier and busier and dogs need a lot of attention, more than we could give. So that was that. Fast forward 10 years later, I'm married and have a house and I want to get....a CAT. In my mind, they are low maintenance (we could go out of town for a weekend and have someone come to the house a couple times to check on it instead of a dog that needed wayyy more care and attention) but still cuddly (sometimes). We don't have a fenced in yard, and I just didn't feel like we were ready for all the responsibility of a dog. Then, our next door neighbor's house got broken into....while they were home! I really can't think of anything more terrifying. Plus, Phil has a weird schedule and I spend my fair share of nights alone. I started thinking...did I want a scardey cat who would go hide under the bed if something happened, or a companion to hang out with me during those lonely nights and possibly protect me if needed? Dog it was.
We wanted to adopt a young dog - Phil wanted a puppy but I said no thanks. I was not about to get up in the middle of the night for bathroom trips and scrub accidents out of our carpet. So we agreed on looking for a dog around 2 years old. There is a local adoption group around here that fosters strays, and I liked the idea of getting a foster dog who would already be acclimated to living in a house. They hold adoption events at PetSmart on Saturdays, so off we headed, excited and wondering what we would find. We went to one PetSmart and didn't fall in love with any dogs. They were all too young, too old, too big, too small. Feeling defeated, we headed to another location and walked around a bit before we spotted him. A sweet guy who looked like a mini yellow lab - perfect size and he was about 1 1/2 year old. We asked if we could take him for a walk around the store and he was SO EXCITED....pulling everywhere and smelling everything. Phil was smitten already, I thought he was adorable but a little too hyper. But the decision was made when Phil knelt down to pet him and Ted just leaned up against him until he fell over, then just sat there "smiling" and wagging his tail. He was snuggly too? We were sold. His foster dad brought him over
to make sure we weren't animal hoarders
for a "home inspection" .......and 20 min later he was ours. And the rest is history.